Public Policy For The People: Making a Difference Magazine Fall 2017
by Dawn Alford and Hanna Rosenfeld
The summer of 2017 was dedicated to advocating for Medicaid. The Georgia Council on Developmental Disabilities (GCDD) joined other agencies, organizations, nonprofits and advocates to launch the No Cuts! No Caps! Campaign to bring attention to the dangers present for Georgians with disabilities in many of the healthcare proposals being discussed in the US Senate.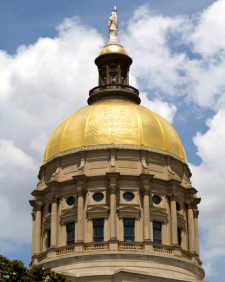 As GCDD's Executive Director Eric Jacobson shared in the Fall edition of Making a Difference magazine, "advocacy is the most important and effective way to get your voice heard." This proved true across the nation as Georgians with disabilities joined the many voices rising across our great country to educate lawmakers on the dangers of cutting $800 billion from Medicaid. With all of your help, we were rewarded with the US Senate's failure to pass the "Skinny Repeal" before their August recess.
Unfortunately, the fight resumed in September when the US Senate proposed yet another damaging healthcare bill that would be harmful to people with disabilities. The Graham-Cassidy Bill, sponsored by Senators Lindsey Graham (R-South Carolina), Bill Cassidy (R-Louisiana), Dean Heller (R-Nevada) and Ron Johnson (R-Wisconsin), once again, included massive cuts to Medicaid and rolled back many consumer protections granted in the Affordable Care Act (ACA). Thankfully, the advocacy of so many paid off and the Senate decided not to vote on this bill. While it is unclear at this time what the future may hold, it is clear that the desire for healthcare change is real and not going away any time soon. The need to advocate and raise our voices continues to be strong as we guard against any potential changes that would harm people with disabilities.
As we prepare for future fights, we must learn from our past experiences. We now know that few elected officials or members of the general public understand the Medicaid program and who it serves. For example, many do not realize the difference between Medicaid "expansion" through the ACA which Georgia chose not to take, and traditional Medicaid, which has been around for more than 50 years and funds the home and community based services upon which so many people with disabilities rely. This contributed to the false security that people with disabilities felt, believing that their form of Medicaid would somehow be protected from the cuts being proposed. In collaboration with many partners across the State and the nation, GCDD was reminded of the need to continually educate our advocates and communities. As long as Medicaid continues to be the lifeline to the community for people with disabilities, we at the GCDD will continue to educate and advocate for its survival.
Along with Medicaid advocacy, September was the month of hurricanes. These natural disasters reminded us that people with disabilities must advocate for themselves by speaking with their caregivers, family members and other trusted supports to develop a personal emergency plan for any kind of emergency they might face. They must also engage with community officials and ensure that they have incorporated the needs of people with disabilities into their disaster planning efforts.
Dawn Alford is the GCDD Public Policy Director.
Hanna Rosenfeld is the GCDD Planning and Policy Development Specialist.
To read more in Making a Difference magazine, see below:
Save
Save
Tags: GCDD, Advocacy, public policy