Public Policy for the People: 17 January 2017

Volume 3, Issue 2 • 2017 Legislative Session • 17 January 2017

The Inclusive Post-Secondary Education Day has been rescheduled.
It is no longer

January 18

, but now

February 1

! See you there!
Looking Ahead



Plan to attend GCDD Advocacy Days. Register online at: bit.ly/2fRxoYX
Feb 1 – DD Waivers Advocacy Day 1 & Inclusive Post-Secondary Education Advocacy Day
Feb 7 – DD Waivers Advocacy Day 2
Feb 23 – Employment Advocacy Day
Feb 28 – Enable Work and Families Advocacy Day (Family Care Act, Peach Work, and Phillip Payne Personal Assistance Program)
March 9 – Home & Community Advocacy Day (Elder & Disabled Abuser Registry, People First Language, Residential Housing Study Committee, Transportation)
Our Partner's Advocacy Days (we share a common legislative goal)



Jan 26 - Be there for Seniors Day (GA Council on Aging) – Elder & Disabled Abuser Registry - DATE CHANGED
Feb 14 – Change the Standard to Prove Intellectual Disabilities in Capital Punishment Cases (PAPE Coalition and Georgians for Alternatives to the Death Penalty)
Feb 15 – Senior Week (GA Council on Aging) – Elder & Disabled Abuser Registry

Feb 16 – Senior Week (GA Council on Aging) – Elder & Disabled Abuser Registry
Our Friend's Advocacy Days



Jan 25 - Sickle Cell Day (Sickle Cell Foundation of GA)
Jan 31 - Mental Health Day (GA Parent Support Network)
Feb 2 - Justice Day at the Capitol (GA Justice Project)
Feb 3 - Alzheimer's Awareness Day (Alzheimer's Association, GA Chapter)
Feb 8 - Stop Violence Against Women Day (GA Coalition Against Domestic Violence)
Feb 15 – Interfaith Children's Movement Day at the Capitol
Feb 21 – Catholic Day at the Capitol
Feb 22 – Easterseals Day at the Capitol
Feb 23 – Hemophilia of GA Day (Hemophilia of GA)
Feb 28 – Anti-Sex Trafficking Lobby Day (City of Refuge, Freedom Coalition, GA Cares, Haven ATL, Out of Darkness, Street Grace, United Way of Greater Atlanta, Wellspring Living)
Mar 9 – Lupus Awareness Day (Lupus Foundation of America, GA Chapter)
Mar 16 – Type 1 Diabetes Day (JRDF)
If you know of an Advocacy Day that our readers might be interested in learning about, please email Include your name, contact information, time, date, sponsoring organization, and summary of purpose for holding the event.
Other Events:

January 20 - DD Advisory Council Meeting (Department of Behavioral Health and Developmental Disabilities), 10:00 am - 2:00 pm, 2 Peachtree Street NW, 24th Floor, Room 260, Atlanta, GA 30303
January 28 - Department of Behavioral Health and Developmental Disabilities Region 3 Advisory Council will be hosting a Community Education Forum at 11:00 am to 1:00 pm at the Mountain Park Activity Center located at 1063 Rockbridge Road SW in Stone Mountain, Georgia 30087.The purpose of the community forum is to educate the public about programs and services within their local communities and to gather input from the community stakeholders regarding issues of access to, and quality of services from contracted providers and its partners. Click here to learn more and register.
Celebration of Children Conference, sponsored by the Interfaith Children's Movement, will focus on improving the wellbeing of Georgia's children. This year's conference will be held on January 26, 2017 at Marietta First United Methodist Church from 10:00 am to 2:00 pm. Click here to learn more and register.
Keep up to date

Catch our weekly phone call, every Monday during session at 9:30am. Dial in at 1-888-355-1249, Code: 232357.
Join our Advocacy Network at bit.ly/GCDDAlerts
To join you will need to provide an email address. When you sign up, be sure to select Public Policy Alerts and UNLOCK! alerts so you get the most up to date information. If you signed up last year, be sure to check and make sure your information is up to date.
Read Public Policy for the People. Released every other Monday. - Jan 30, Feb 13, Feb 27, Mar 13, Mar 27
Learn the Lingo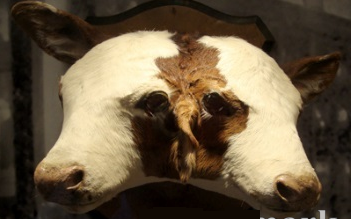 A two headed cow? Not just something you will find in a sci-fi movie, but also on the fourth floor of the Capitol! Next time you come down to meet with your legislator, be sure to look near room 431.
Speaker of the House: The top position in the House of Representatives. Elected by fellow members, the Speaker has a lot of duties, some of which are calling bills up for discussion or vote, upholding the rules of the House, and calling on other members who want to speak or ask a question. The current Speaker is David Ralston of Blue Ridge, GA.
President of the Senate: The top position in the Senate, the President of the Senate is held by the Lieutenant Governor. Currently this is Lieutenant Governor Casey Cagle. The Lieutenant Governor has many roles, but in terms of the Senate they preside over debate and oversee the movement of legislation. As he is not an elected member of the Senate, the President of the Senate cannot vote or sponsor legislation.
Be in the Know:
Brush up on GCDD's 2017 Legislative Priorities

Despite the chilly weather that gripped much of the state, the legislative session kicked off January 9 as planned.
GCDD held its first Public Policy Phone Call, participated in UNLOCK! Day at the Capitol, attended House Appropriations Committee Meetings for both Health and Human Resources, and learned about the issues facing Georgia's healthcare system at Healthcare Unscrambled hosted by Georgians for a Healthy Future.
We also learned that Crossover Day has changed this year from the 30th legislative day to the 28th legislative day. What this means? Day 28 will now be the deadline for legislation to move from the House to the Senate, or vice versa. If it does not make this deadline, the bill is dead until next year.
The Family Care Act: We are very excited to announce that Senator Butch Miller will be sponsoring the Family Care Act this year! Remember, the Family Care Act would allow family members to use up to five days of their earned sick leave to care for a sick family member. Be sure to come out February 28 to show your support for the Family Care Act as they will be one of the participating organizations for GCDD Advocacy Days.
Quick Tip: HB = House Bill SB= Senate Bill
HB 16: Would revise the definition of bullying and harassment in elementary and secondary education. Of note, this would expand the definition to include bullying on the basis of disability. To read the full bill, click here.
HB 28: Requires the testing of drinking water for lead contamination in all public and private schools here in Georgia. If lead is found, the law requires a remediation plan to be implemented and alternate drinking sources to be provided to students and staff. To read the full bill, click here.
HB 65: Widens the criteria of who is allowed to use Low THC Oil, a form of medical marijuana, in Georgia, to include autism spectrum disorder, intractable pain, Post-Traumatic Stress Disorder, Tourette's syndrome, Alzheimer's disease, and HIV/AIDS. Additionally, the bill would remove the one-year residency requirement and physician's quarterly reporting. To read the full bill, click here.
HR 36: This constitutional amendment would allow the production of cannabis in Georgia, as well as the sale of cannabis for those who meet the medical requirement. To read the full proposed amendment, click here.
SB 16: This would change the definition of "low THC oil" from 5% to 3% by weight, as well as add autism spectrum disorder to the medical conditionals eligible to use low TCH oil. To read the full bill, click here.
SB 8: "Surprise Billing and Consumer Protection Act" which would help protect consumers from unexpected out of network healthcare costs, among other things. To read the full bill, click here.
SB 12: This would allow dental hygienists to provide teeth cleanings in safety-net settings, such as a nursing home, senior center, or volunteer community health setting without a dentist being on site. The intent behind this bill is to make dental cleanings more accessible and affordable. To read the full bill, click here.
Governor's State of the State
Think the President's State of the Union, only Georgia focused. Governor Nathan Deal spoke before the General Assembly on Wednesday, January 11 for about an hour. To read the Governor's speech in full, click here.
Some highlights:
Georgia revenue (the pot of money that funds the government) is expected to grow 3.6% for FY18.
Law enforcement will now be trained "on how to safely handle situations involving those with mental impairment"
Teachers got a 3% increase for merit, recruitment, and retention, as well as a 2% salary increase.
Deal wishes "to enhance Medicaid and the State Health Benefit Plan to include the treatment of those diagnosed with autism up to age 21."
Recommends the expansion of behavioral and mental health coverage to children between birth and age 4 for Medicaid and PeachCare Members -allocating $2.5 million to make this happen.
Deal "cautions against taking giant leaps on healthcare policy until we know what Congress and the incoming administration will do."
A 2% salary raise for state employees.
There was a major focus on children in failing schools. Despite Georgia residents voting against Governor Deal's Opportunity School District, the Governor is working with the Georgia General Assembly to come up with a new plan to address poor school performance.
Budget 101: Governor's Recommendations
Every year the Governor puts out his budget recommendations for the upcoming year, in this case Fiscal Year 18 (FY 18 for short) which is from July 1, 2017 to June 30, 2018. Legislators use the Governor's Recommendations as a starting point to suggest changes of their own. Eventually the House and Senate will come to agreement and pass the FY 18 Budget.
It is very long document and so we have pulled out some highlights for you. If you are feeling particularly brave today and want to explore Budget on your own, you can find it here.
Quick Tip: (p 101) stands for page 101 of the Budget in case you want to look for yourself
Let's focus first on GCDD's priority issues.
Inclusive Post-Secondary Education - No cuts but also no increase. If we want any additional funds for IPSE schools, we need to work for it through advocacy.
DD Waivers - No new funds for people in the community. No plan to deal with the 8,698 Georgians waiting desperately for a DD waiver. If we want to see any significant progress on the waiting list, we need to do some serious advocacy this session. GCDD is ready, are you?

Annualized 100 NOW waivers. $1,096,912 (p 101)
Annualized 250 NOW and Comp waivers per DOJ settlement to cover individuals coming out of institutions. $12,108,226 (p 100)
Additional 250 NOW and Comp waivers per DOJ settlement to cover individuals coming out of institutions. $6,054,113 (p 101)

$11,762,894 -Annualize the cost of a provider rate increase for COMP waiver programs (p 100)
Other areas of interest?
Department of Behavioral Health and Developmental Disabilities
$6,000,000 for one new Behavioral Health Crisis Center (p 101)
Department of Community Health
$1,377,969 to reduce the waiting list for Community Care Services Program Waiver (CCSP) (p 119)
$250,000 to increase funds for an adjustment to congregate and home delivered meal rates for Medicaid waivers for the elderly (p 119)
$20,766,592 in Tenet settlement agreement funds to cover Medicaid behavioral health services for children under 21 who are diagnosed with autism. (p 120) - We will let you know as we learn more what this will actually cover and look like.
$2,533,408 in Tenet settlement agreement funds for behavioral health services to children ages 0-4 on Medicaid (p 120)
State Health Benefit Plan

Increase funds to raise the five-year benefit limit for children's hearing aids from $3,000 to $6,000 (p 120)
Increase funds to reflect enrollment growth to match Medicaid age requirements for the treatment of autism spectrum disorders. (p 121)
Department of Human Services
$766,484 for 11 new adult protective services supervisors in the division of Elder Abuse Investigations and Prevention (p 194)
Department of Education (DOE)
A 2% pay raise for all public school teachers in the state of Georgia.
Georgia Network for Educational and Therapeutic Support(GNETS)

GNETS have seen a decrease in student enrollment. Instead of reallocating this money saved to the general pot, GNETs are using the money for staff training to improve instructional practices and for behavioral and therapeutic service contracts. (p 164)

Preschool Disabilities Services (services for 3 and 4 year olds)

$794,243 -increase funds for enrollment growth and training. (p 166)

$4,441,199 Increase in funds for the Special Needs Scholarship (helps support parent school choice) (p 167)
Governor's Budget Recommendations for Amended FY 17:
Additional 250 NOW and Comp waivers per DOJ settlement to cover individuals coming out of institutions. $6,054,113
Around Town with UNLOCK
Last week the UNLOCK! Coalition held UNLOCK! Day at the Capitol.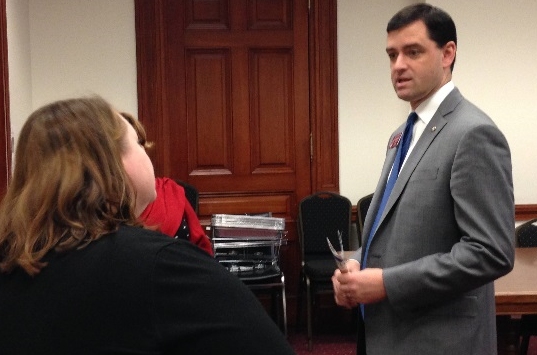 Representative Scott Hilton was one of many legislators who stopped by to learn about UNLOCK!'s mission and legislative priorities.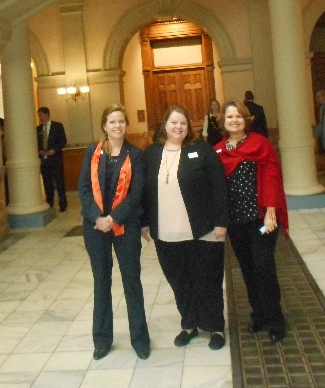 UNLOCK! Coalition Organizer Stacey Ramirez of The Arc, joined by Dawn Johnson and Paige Kubik of the Frazier Center at UNLOCK! Day at the Capitol.



Tags: GCDD, Advocacy, public policy