Public Policy for the People: Volume 2, Issue 7 - March 29, 2016

Volume 2, Issue 7

Insider Highlights

Welcome to the special wrap-up issue of Public Policy for the People for the 2016 Legislative Session. Thursday, March 24, was the final and 40th day of the legislative session, or Sine Die as it is known. Both the House and the Senate worked well into the night and did not adjourn until about half past midnight.


Overall it was a successful session for people with disabilities. In fact, the passage of HB 768, the ABLE Act, was a huge win and now this bill sits on Governor Deal's desk to await his review (and hopefully his signature). Furthermore, through our advocacy efforts, UNLOCK! succeeded in getting over $3.7 million added to the FY 2017 Georgia state budget for people with disabilities. Specifically, we succeeded in achieving parity of the Independent Care Waiver Program Personal Support Service rates with that of the CCSP/SOURCE program rates. Therefore, we want to thank YOU, our partners, allies, and friends without whom we could not have been so successful!


Please continue reading to get further details on the conclusion of the 2016 legislative session as it relates to people with disabilities.
Budget 101

During the last week of session, both chambers passed the final version of the $23.7 billion FY2017 budget that had been agreed upon by the Conference Committee. To see the budget document that gives only the House and Senate budget differences and agreements reached by the conference committee on those differences, please click here.


To see the entire 130-page FY 2017 budget document that tracks each line item from the Governor's recommendation, through the House and Senate versions, to the Conference committee agreements, then click here.
The table below shows the specific UNLOCK! budget asks throughout the budget process in the 2016 Georgia General Assembly. The items in red show the final amounts that were agreed upon and are in the budget document that awaits the signature of Governor Deal.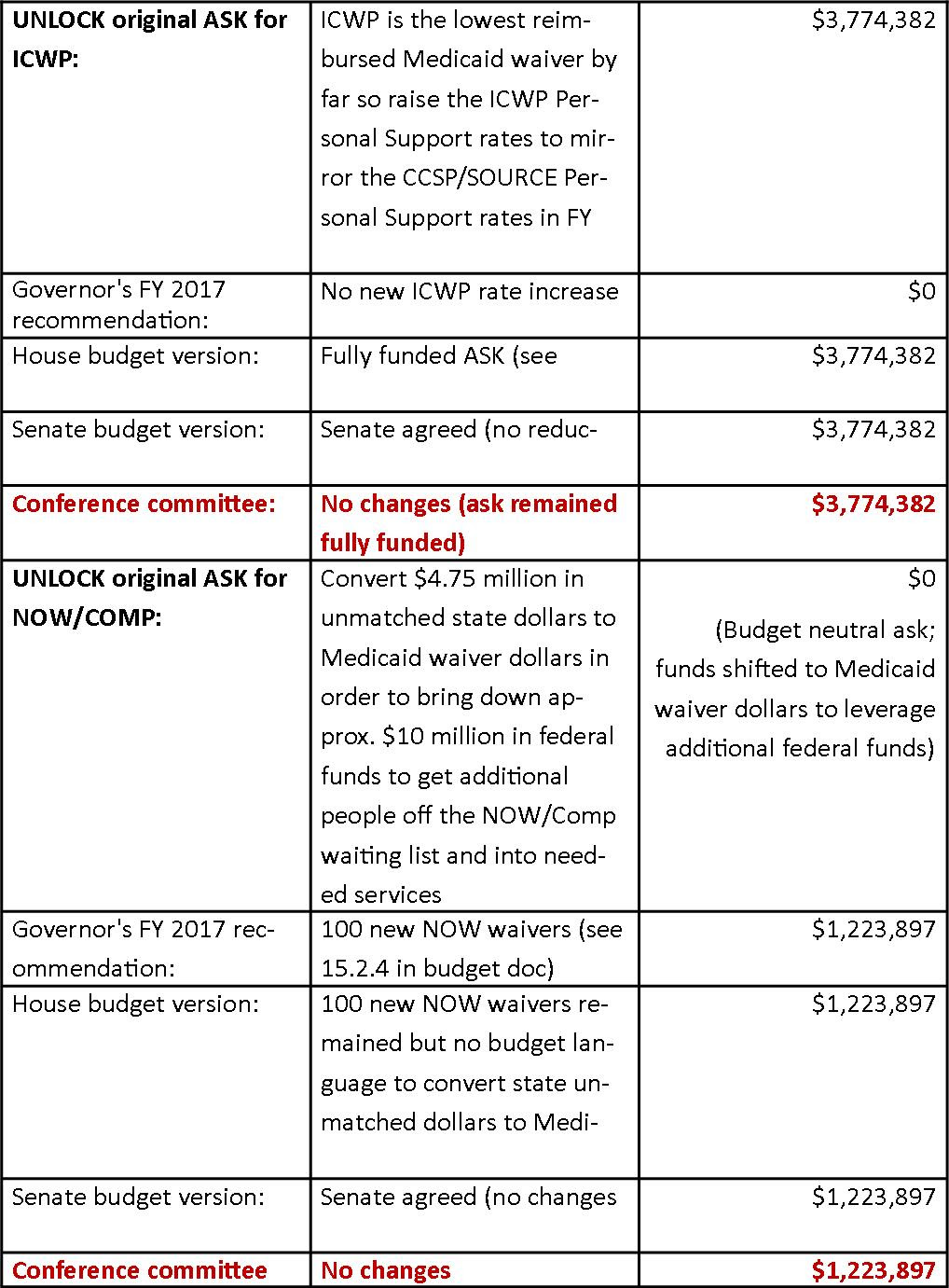 Below are some additional highlights in the FY 2017 budget:


Department of Behavioral Health & Developmental Disabilities
15.2.4 100 new NOW waivers $1,223,897
15.2.7 Provide six months of funding to reflect a provider rate increase for the comprehensive supports waiver (COMP) $11,900,000
15.2.11 Increase in funds for Rockdale Cares $10,000


Department of Community Affairs
16.9.1 (See also 16.3.6) Transfer funds from the Georgia Advocacy Office contract to the Special Housing Initiatives program for the Home Access Initiative increased by $224,902 to for total of $3,187,794


Department of Community Health
The Community Care Service Program (CCSP) will be transferred to the Aged, Blind and Disabled program in DCH (See 17.1.11 and 28.10.5).
17.7.10 ICWP receives an increase in Personal Support rates to match the CCSP and SOURCE program rates. This is an increase of $3,774,282 in state funds plus federal match to equal $11,725,325 total.
17.7.12 Children's Intervention Services increase in occupational and physical therapy rates of $2,000,000 plus federal match for a total of $6,213,110
17.7.15 Increase the Vent Reimbursement Rate by 3% ($95,041 in state funds) for a total of $295,250


Department of Education
24.9.3 Increase GNETs funding by $72,462 to reflect increased enrollment
24.18.2 Increase Positive Behavioral Intervention Services by $300,000



Aging (within DHS)
28.9.4 11 additional adult protective services caseworkers $760,532
28.10.6 1,000 non-Medicaid HCBS slots $2,055,000
28.10.7 Transfer 167 seniors out of nursing homes into the community $1,000,000
28.11.4 Increase Meals on Wheels $500,000


Georgia Vocational Rehabilition Authority (within DHS)
28.23.6 Encourage GVRA to create a third party cooperative arrangement with the Technical College System to maximize financial assistance to vocational rehab clients.

Issue Update

To see the most updated version of the GCDD 2016 legislative agenda, please click here.
Employment First - Vocal Support from Governor Deal at Disability Day
If you haven't already done so, please be sure to read the committee report that resulted from last fall's "Post-Secondary Education & Employment Options for Individuals with Intellectual and Developmental Disabilities" House study committee that was chaired by Representative Katie Dempsey. Stay tuned for updates as we continue to work with Madam Chair Dempsey to move Georgia forward on Employment First. If you wish to be added to the Employment First coalition communications, please email .
Inclusive Post-secondary Education (IPSE) - No New Funds
While there were no cuts, unfortunately, no new funding was added to the FY 2017 budget for Inclusive Post-secondary Education programs in Georgia. Please contact GCDD Public Policy Director Dawn Alford at if you are interested in discussing the legislative strategy on IPSE for next year.
​ABLE (HB 768) - PASSED
Submitted by Elizabeth J. Appley, Esq., AADD Public Policy Advocate
HB 768 passed late in the night on Sine Die and is now on its way to Governor Deal. We will keep you posted! Together we made this happen, so thanks to all of you who participated in this great team effort! Please extend special thanks to your Senators and Representatives who voted for ABLE; to our tireless author of the Bill who led the fight every step of the way, Rep. Lee Hawkins; to Senator Fran Millar who carried the Bill in the Senate and was one of our earliest supporters; to Senator Renee Unterman who led the effort to have this as one of the Senate Republican Caucus' top priorities; and to the key leadership who helped make this a reality, House Speaker David Ralston, House Speaker Pro Tem Jan Jones, House Ways and Means Chair Jay Powell, Minority Leader Stacey Abrams, Lt. Governor Casey Cagle, Senate President Pro Tem David Shafer, Senate Finance Committee Chair Judson Hill, and Senate Minority Leader Steve Henson. Thank you to all of these legislators and many others who helped us at every turn to enact the strongest ABLE Act possible.
Family Care Act (SB 242) - DID NOT PASS
Thank you to all of you who have worked so hard to support the Family Care Act this session. SB 242 passed out of committee but never made it onto the Senate Rules Calendar and it did not make the crossover deadline. Please reach out to if you wish to be added to the list for the Job Family Collaborative so that you can be notified of the post-session debrief and strategy planning session to begin planning for next year.

Standard of Proof for Intellectual Disability (SB 401) - DID NOT PASS
Thank you to all who have supported our efforts this session to get SB 401 introduced. Please contact Caitlin Childs at or Kathryn Hamoudah at if you are interested in joining the PAPE (Burden of Proof to a Preponderance of the Evidence) Coalition to strategize on this issue going forward.
Bills
To see a list of bills that GCDD is tracking with the latest status, please click here. Note that you can click on the bill number to be taken to a page to get further information on the bill and see the entire language of the bill if you wish. This concludes the 2nd year of the two year (2015-16) biennial. Any bills that did not pass this year are dead; they will need to be reintroduced and begin the process anew in 2017. Bills that were passed are now in the hands of Governor Deal to review. He has 40 days from sine die to act on a bill, which gives him until May 3. If he does not veto a bill by that time, it becomes law.
Here are a few other bill highlights to note:
HB 614, also known as the Landon Dunson Act, passed late on the last day of session. This bill allows a pilot program whereby school districts may optionally sign up to participate to have cameras in special education classrooms.
HB 916, the Pharmacy Audit Bill, also passed on sine die. This bill provides that clerical or other errors do not constitute a basis to recoup payments made by providers of medical assistance; to provide for a correction period.
HB 1037, a first step to a more robust Abuser Registry, passed and is on the way to the Governor's desk. The Bill expands the current CNA Registry maintained by the Department of Community Health (DCH) to include the acceptance of complaints on CNAs that work in all settings (think your home or your loved one's home) rather than just in licensed Health Care Facilities. In addition the bill requires the link to the CNA Registry (which is accessible to the public) be more prominent on the DCH website therefore making it easier for consumers to find.
Resources

To view a list of qualified candidates for the May 24th primaries, click here.

Georgia Council on Developmental Disabilities 2016 Legislative Agenda
Tips on How to Speak with Your Legislator
Accessibility on Capitol Hill
House Committee Meeting Calendar
Senate Committee Meeting Calendar
Watch the Session Live
Find your Legislator
Georgia State Constitution

Join Our Advocacy Network
To receive updates and calls to action during the session, be sure to join our advocacy network. In order to ensure you receive important legislative communications, be sure to select to receive both the Public Policy and UNLOCK alerts.
Tags: GCDD, Advocacy, public policy