Public Policy for the People: Making a Difference Magazine Fall 2018
The Disability Vote Counts! -- A Guide to Voting
by Hanna Rosenfeld, GCDD Planning & Policy Development Specialist
Voting is one of our most important rights and civic duties as citizens living in a democracy. When you participate in the election process, you help pave the path toward progress for people with disabilities. In Georgia, more than one million people have disabilities and approximately 652,000 are of voting age.
The following is a guide on voting for people with disabilities and everything you need to know about the election on November 6, 2018.
Disability Guide to Voting
Eligibility
To participate in the voting process in Georgia, you must be a citizen of the United States; a legal resident of Georgia and of the county in which you plan to vote; and 18 years of age by Election Day. Check your status through the Secretary of State's website or contact your county voter registration office to see if you are registered to vote.
Assistance
If a voter with a disability is unable to sign his or her name; to see or mark the answers on the ballot; use the voting equipment; or cannot enter the voting booth without support, they may bring someone to help them.
A voter with a disability can receive support from any individual EXCEPT his or her employer, representative of his or her employer or a representative of his or her union, nor a poll worker or poll watcher, who is a resident of the precinct where the voter needing support is trying to vote.
Voters with disabilities can receive assistance from any other individuals including a mother, father, sister, brother, spouse, friend or child. Each individual assisting the voter with a disability must record his or her name on the elector's voter certificate.
A voter with a disability is not required to have someone assist them at the polls – it is their choice.
Additionally, poll officers and workers are provided training regarding the use of voting equipment, procedures and all aspects of state and federal laws applicable to conducting elections.
Assistive Technology
For voters with disabilities who require accommodation in the form of assistive technology, there are accessible touch screen voting equipment options provided at the polls that allow for assistance, but give more privacy and independence for voters to select their choices. These options include:
An audio ballot for those with visual impairment or who are blind, equipped with headphones and a number keypad similar to an automated phone service.
A magnifying feature that is available on every touch screen voting unit in Georgia, which allows voters to enlarge the print on the ballot.
Touch screen voting units that allow a voter to vote while sitting in a chair or wheelchair.
Reading the Ballot
To view a sample of your personal ballot, visit the My Voter Page (MVP) on the Georgia Secretary of State's website. You will need to create an MVP login using your name, county and birth date to download your ballot.
Statewide Races
Every registered voter in the State of Georgia will be able to vote for all these offices:
Governor
Lieutenant Governor
Secretary of State
Attorney General
Commissioner of Agriculture
Commissioner of Insurance
State School Superintendent
Commissioner of Labor
Public Service Commissioners
Local Races
Only registered voters in designated areas can vote for these offices. The ballot you receive at the polls will show ONLY your candidates here. This may include:
US Senate & Representatives
Georgia Senate & Representatives
County or City Boards of Education
County or City Boards of Commissioners
Mayors & City Councils
Special Items
At the end of the ballot, special items will be listed that you will be asked to approve. It is a good idea to review these items beforehand to understand what is proposed. These may include:
Proposed Constitutional Amendments
Proposed Statewide Referenda
Special Elections
You can review your sample ballot at My Voter Page at www.mvp.sos.ga.gov.
Statewide Elections
Governor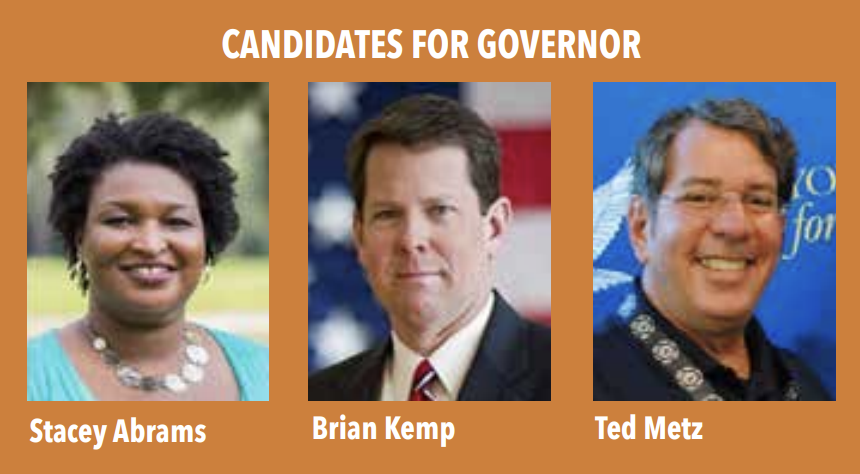 The former House Minority Leader (2010-2017) and Atlanta resident Stacey Abrams, Democrat, believes that, "Georgia must pursue expansion of Medicaid as both a stabilization and growth model for delivery of healthcare and for economic growth." Indeed, Abrams went so far as to say that her first priority if elected would be to "[see through the] expansion of Medicaid in the State of Georgia to cover 500,000 Georgians; save our rural hospitals; and make certain that we start to create the thousands of jobs to which Georgia is eligible if we expand Medicaid in the State."
An Athens resident, Brian Kemp, Republican, has served as Secretary of State of Georgia since 2010. When asked what his first priority would be if elected, Kemp responded, "Well, day one I am going to create a Putting Georgians First Committee that will be made up of business people, not bureaucrats. It is going to start looking at cutting government regulations, cutting red tape. This is really part of a Conservative Four Point Plan I have to make Georgia number one for small businesses in the country." Regarding Medicaid, Kemp has reportedly said we should be lowering healthcare costs without giving more funding to Medicaid.
Chair of the Libertarian Party of Georgia, Ted Metz lives in South Cobb. When asked about Medicaid expansion, Metz stated, "With removal of strings attached to Medicaid grants which put 159 agencies in-between people and their doctors, ending certificate of needs for competitive facilities, and using innovative approaches to healthcare, expansion would be the right thing."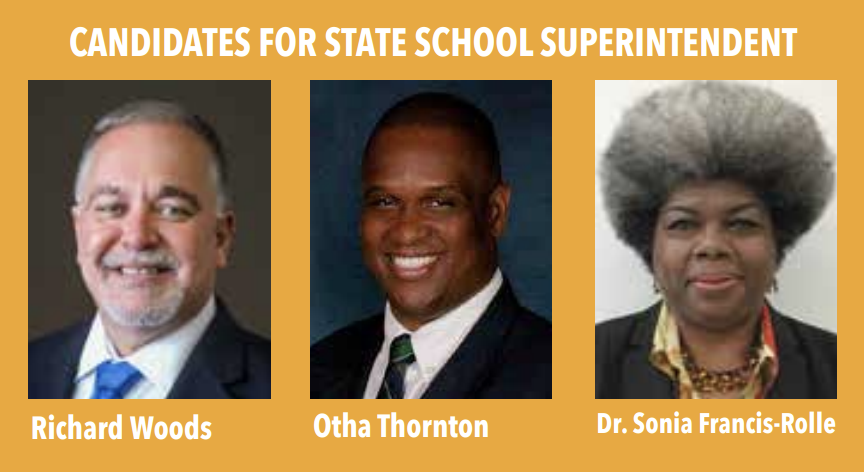 State School Superintendent
The current State School Superintendent, Richard Woods, has served since 2015 and is running for a second term as the Republican candidate. Woods is a Georgia native. Raised in Fitzgerald, he now calls Tifton home. A former public school teacher, Woods created a Student Advisory Council and launched the "Georgia Career Pipeline tool to help local districts match career pathways offered at high schools to area job demands." When asked whether the Georgia Network for Educational and Therapeutic Support, or GNETS, was constitutional, Woods did not commit either way. He did note however, "I think [it provides] a good role. [GNETS acts] as a bridge. Instead of moving from the home school to a residential facility, it gives you a middle ground."
Woods is challenged by the Democratic nominee Otha Thornton. An Elberton native, Thornton currently lives in Richmond Hill with his wife and two children. He was the first African American male to serve as President of the National PTA, and Thornton's top priorities include empowering families and educators, providing wrap-around services for children and updating the state's funding formula for schools to include technology. In response to a Georgia school re-instituting paddling as a punishment, Thornton stated, "My plan to bring wrap-around services and more mental health professionals will help Georgia schools progress rather than regress."
Dr. Sonia Francis-Rolle is also running for State Superintendent as a write-in candidate. Francis-Rolle is a Republican and a past teacher in the DeKalb and Fulton County school systems. Francis-Rolle has pointed out that "the increasing need for Individualized Education Plans (IEPs) require a great deal of flexibility for parents and educators to decide for themselves how to set goals for adequate progress." Additionally, Francis-Rolle advocates for "statewide special education training" and "smaller class sizes for students with discipline challenges."
Commissioner of Insurance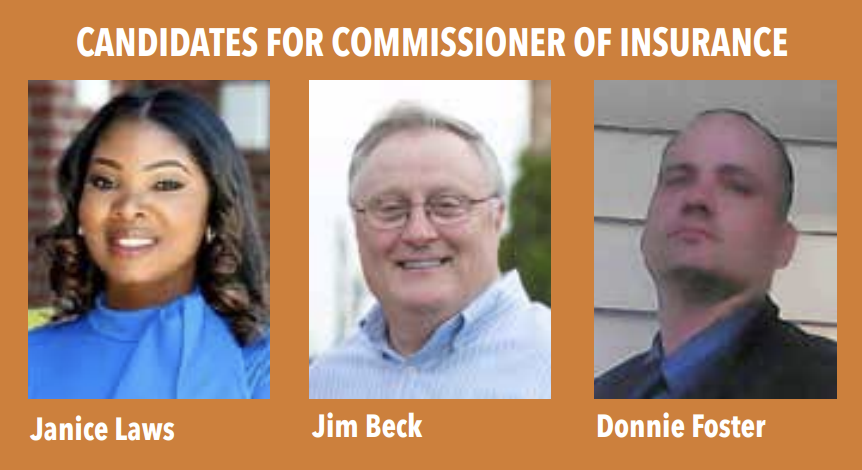 The Office of Insurance and Fire Safety Commissioner oversees the insurance industry including life, car and medical insurance, as well as fire safety regulation. The current commissioner, Ralph Hudgens, is stepping down after eight years. Candidates will focus on Medicaid expansion, access to affordable healthcare and coverage for those with multiple diagnoses.
The Democratic nominee, Janice Laws, emigrated from Jamaica and has called Georgia home for 15 years. The owner of an insurance agency, Laws' background lies within the realm of home, auto and life insurance. Laws has stated that her "first order of business" is to "address the cost of automobile insurance." As for health insurance, her focus is on, "fraud and predatory insurance practices" that plague "seniors, veterans and other at-risk families."
Laws is challenged by Republican party nominee Jim Beck. A Carrollton resident, Beck previously worked as the Deputy Insurance Commissioner and an insurance lobbyist. Beck's priorities include increasing accessibility to the public by creating, "four rolling regional offices" and hosting telephone town halls to discuss potential rate increases. Other key components of his platform include "doubling the penalties on insurance companies guilty of victimizing" seniors and veterans.
The Libertarian candidate for Insurance Commissioner is Donnie Foster. A truck driver, Foster's experience includes time in the US Army and as a deputy sheriff. His platform includes empowering local fire departments to approve home additions, lowering the minimum amount of auto and liability insurance coverage required by law, and repealing the requirement that, "all persons applying for a permit to the Office of Insurance and Fire Safety Commissioner" supply proof of legal residency.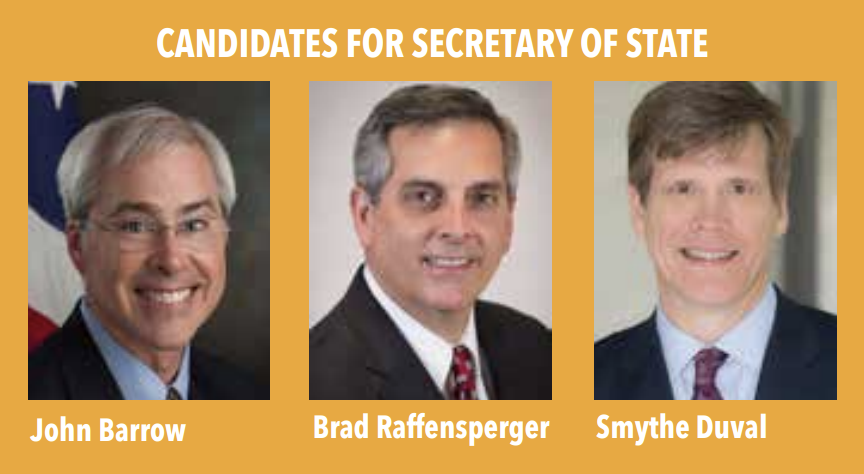 Secretary of State
As for Secretary of State, incumbent Brian Kemp stepped down to run for Governor. This important office oversees many state activities, such as business licensing and elections. Candidates will focus on the challenges that 1.3 million Georgians with disabilities face when trying to have their voices heard in the election process. Specifically, accessible polling centers, easy-to-understand language on ballots and easy-to-follow absentee ballot eligibility requirements.
John Barrow is the Democratic candidate for Secretary of State. A former US congressman representing the 12th district in Georgia, Barrow calls Athens home. Barrow believes that the Secretary of State's office is the, "most important office in Georgia that no one thinks about." Barrow is a proponent of switching to a paper ballot system that uses optical scanners. Barrow is also vocal about the need for gerrymandering reform, citing his own personal experience as a congressman whose district was redrawn multiple times.
The Republican candidate is Brad Raffensperger. Calling Johns Creek home, Raffensperger is the CEO of a specialty engineering design firm. Raffensperger is a proponent of replacing income tax with a FairTax, where purchases are taxed as opposed to income. Other components include strengthening voter ID laws, reducing sex and drug trafficking and updating the voter system to include "paper ballot verification."
The final candidate for Secretary of State is Smythe Duval. A Libertarian, Duval is a Marietta resident. A military veteran and registered nurse, Duval currently works as the IT director for a large medical practice. He advocates to adopt a ranked-choice voting system, allow same-day voter registration and to impose congressional term limits. Duval wants a reduction in barriers independent and minor party candidates face running for office and to eliminate gerrymandering.
Your Vote Counts!
Vote November 6, 2018
It is important to note that GCDD does not endorse any candidate and that the enclosed information encompasses only a small piece of a larger political platform for each candidate. We encourage you reach out to them with questions of your own – and to vote.
To read more in Making a Difference magazine, see below:
Tags: Advocacy, Making a Difference, public policy