Public Policy for the People: GCDD e-news June 2018
UNLOCK! Legislative Training
by GCDD Public Policy Director Dawn Alford & GCDD Planning & Policy Development Specialist Hanna Rosenfeld
Public Policy for the People provides public policy updates as it pertains to people with disabilities here in Georgia.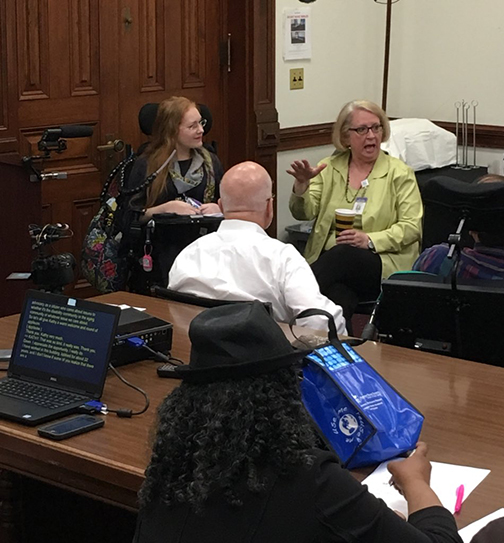 UNLOCK! Meet Your Legislator Training in MayThis May we launched our UNLOCK! Legislative Training series, focused on equipping advocates with the tools they need to be a force in the political process. Sessions addressed meeting your legislator and providing legislative testimony.
At our Meet Your Legislator session, we were lucky enough to be joined by the Georgia Council on Aging's Executive Director Kathy Floyd, a seasoned pro at the Capitol. During the electoral season, this topic is particularly relevant as many elected officials are more visible and accessible as they work to garner votes. It is important that advocates are prepared to take advantage of these opportunities to build relationships with their elected officials or future elected officials. Building a relationship is not something that you will accomplish through one meeting, or even two. It takes dedication and effort. I would challenge each of you to try and meet with your elected official this summer. Find your state elected officials here and then use these tips to get you started.
At our Legislative Testimony session, we were honored to be joined by yet another seasoned pro, Polly McKinney, Advocacy Director of Georgia Voices. We learned about why it is so important for people disabilities and their families to give legislative testimony and tips on how to make your testimony as effective as possible.
For those of you unable to attend these events, keep an eye out for our instructional video sharing highlights from the training's content. Also, our final training event will be a "Lunch and Learn" webinar on June 13 at noon about exercising your rights at the polls. Please use this link to join the webinar: http://bit.ly/UnlockTheVote
As for a quick legislative update, all bills mentioned in the Spring Edition of Making a Difference Magazine were signed into law by Governor Deal.
The Disability Vote
by Vincent (Vinnie) Olsziewski, Co-Chairman of RevUp Georgia
The strength of a democracy is an engaged and informed electorate. All eligible voters should fulfill their responsibility to vote. That said, it is even more critical that People with Disabilities (PwDs) do so. Although the Disability Community is the largest minority group in the electorate, they are vastly underrepresented in elected office.
It's not merely that there are very few People with Disabilities in office; the viewpoint is vastly underrepresented as well. This is due in part to the fact that PwDs are affected by so many pieces of legislation, many of which aren't directly aimed at disability issues. PwDs are also not a monolithic group. Opinions vary widely among them, just like in the rest of society.
There are certain issues where PwDs are strongly united. Healthcare comes to mind. The Medicaid battles of 2017 showed us that when PwDs flex their political muscle, they can be effective. Activists raised the profile of issues like the negative effects Medicaid cuts. This helped in the short term, but the long term solution is to elect leaders who understand these issues and who will actually fight for PwDs when the cameras aren't rolling.
The Disability Community must educate itself on the issues and where their elected officials stand. They need to stand behind those that are supportive and work to replace those that stand in the way of moving forward. There are plenty of resources out there to learn about candidates and elected officials thanks to the internet. Use social media to spread the word about candidates and pending legislation. They are paying attention.
Like it or not, candidates react to several things: money and public opinion top the list. There are many groups making large campaign contributions on behalf of the Disability Community. Of course the single most effective way to influence elected officials is to VOTE! Advocacy groups must engage in voter registration drives. Then find ways to get voters to the polls. Utilize absentee voting, Early Voting, and rides to the polls.
The most important thing to remember is that this can't be a one-and-done approach. It must be sustained over multiple election cycles if the culture is going to be changed. Don't get discouraged. It will change through a series of small steps, but it WILL change if the Disability Community is in it for the long haul.
Learn more about the national disability vote movement at https://www.aapd.com/advocacy/voting/ and join the movement here in Georgia by visiting https://www.facebook.com/RevUpGeorgia/