Public Policy for the People: Making a Difference Magazine Spring 2018
Looking Back at the 2018 Georgia Legislative Session
by Hanna Rosenfeld, GCDD Planning & Policy Development Specialist
The first day of the 2018 legislative session was on Monday, January 8th. The last day, known as Sine Die, occurred on Thursday, March 29th. Indeed, they did not drop the gavel for the last time until a few minutes past midnight (technically very early on March 30).
2018 marks the end of the two-year legislative cycle in Georgia. While the bills from this past year's legislative session (2017) remained active in the 2018 legislative session, the slate will be wiped clean going forward into next year. That means that any bill that either did not pass or is vetoed by Governor Nathan Deal must be re-introduced in next year's legislative session (2019).
The Georgia General Assembly fulfilled its one constitutionally required task when it passed the Amended Fiscal Year 2018 Budget (AFY18), the current fiscal year, and the Fiscal Year 2019 Budget (FY19), which begins July 1 and goes through June 30, 2019. The FY19 budget is comprised of $26.2 billion.
One pleasant surprise came in the last week of the legislative session when Governor Deal increased his revenue projections for the State of Georgia and recommended to the General Assembly that an additional $166.7 million be included to fully fund the Quality Basic Education (QBE) formula for K-12 education in GA for the first time since 2002.
Other key priorities seen in the FY19 budget include: $100 million in transit bond funding; over $19.7 million for children's mental health programs; and over $7.5 million to address the opioid and other addiction epidemic that seems to be plaguing much of the United States.
The FY19 Budget currently sits on Governor Deal's desk, and he has up to 40 calendar days after Sine Die, or May 8, to act on any bill passed in GA. His options are to sign, to veto, or only in the case of the budget, do a line item veto.
We Love Medicaid:
This legislative session, the Georgia Council on Developmental Disabilities (GCDD) focused on educating legislators about the importance of Medicaid in the lives of Georgians with disabilities. GCDD launched the "I Love Medicaid"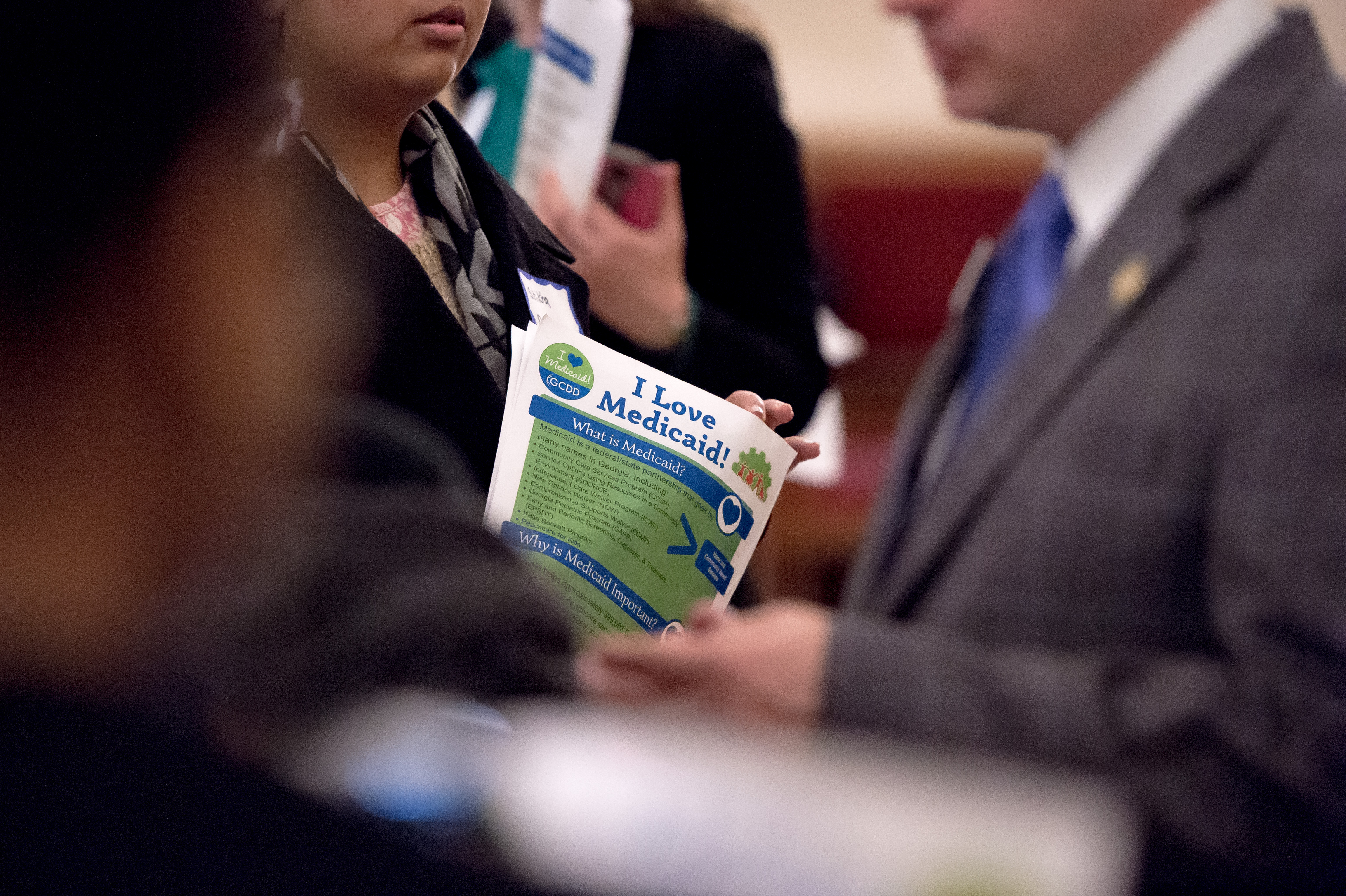 campaign to remind legislators to protect Medicaid funding, especially for home and community-based services. We know that there are changes coming in the healthcare systems of Georgia and we want to be sure legislators fully understand how Georgians with disabilities rely on Medicaid when they make decisions.
One big healthcare decision came in the form of HB 769, sponsored by Rep. Rick Jasperse (R-Jasper), which creates the Rural Health System Innovation Center. The Center is tasked with researching, identifying and evaluating best practices for potential improvements for affordable healthcare in rural GA.
Another big change comes from SB 357, sponsored by Sen. Dean Burke (R-Bainbridge), which creates the Health Coordination and Innovation Council. This Council is tasked with identifying and promoting solutions to improve GA's healthcare system. While neither of these directly impact Medicaid, they both have the potential to create healthcare solutions in the future that might impact Medicaid.

Supported Employment:
GCDD advocated for an additional $4.8 million in dedicated long-term employment supports for Georgians with developmental disabilities who do not have a New Option Waiver (NOW) or Comprehensive Supports Waiver Program (COMP). Although this ask was not funded, GCDD remains committed to highlighting the importance of supported employment for individuals with disabilities.
GCDD is also excited about moving one step closer towards the State recognizing that competitive integrated employment should be the first and preferred option in the provision of publicly funded services for all working-age citizens with disabilities, regardless of the level of disability.
Spearheaded by the GA Vocational Rehabilitation Agency (GVRA) and sponsored by Rep. Terry Rogers (R-Clarksville), HB 831 would create a 14-member Employment First Council comprised of state agencies, providers, individuals with disabilities, a family member and someone from the business community. The primary duty will be to study employment barriers for Georgians with disabilities and make policy recommendations to the Governor and GA General Assembly. Of importance, this bill does not create policy. It only creates the Council to make policy recommendations.
DD Waivers Waiting List:
The NOW and COMP Waivers continue to have the longest waiting list of all Medicaid Home and Community-Based waivers in GA. The waivers offer those who require an institutional level of care the option to receive those services in the community. As of March 9, 2018, there are 7,515 Georgians with developmental disabilities waiting for a NOW or COMP waiver. GCDD knows that for many of these Georgians, the need is urgent and they cannot wait any longer.
With the help of advocates, GCDD asked the GA General Assembly to fund 600 additional NOW and COMP waivers to make a small dent in the waiting list. This ask was based on Department of Behavioral Health and Developmental Disabilities' (DBHDD) multi-year plan to address the waiting list in GA. While we were unsuccessful in our goal of 600, our advocacy retained Governor Deal's recommendation that 125 new NOW and COMP waivers be added to the budget at a cost of $3,138,073.
Inclusive Post-Secondary Education (IPSE):
IPSE programs provide opportunities for study beyond high school to students with intellectual and developmental disabilities. Currently, there are eight IPSE programs in GA and two are slated to open in the next year. IPSE programs prepare students to live increasingly independent lives, pursue careers of their choice, and provide the potential for increased earnings long term.
GCDD is the legislative lead for the GA Inclusive Postsecondary Education Consortium (GAIPSEC). Last year, the GA General Assembly brought the funding level of IPSE programs to $500,000 and transferred the funding, which was previously housed at GCDD, to the GVRA. The FY19 Budget maintained level funding and transferred the $500,000 in state funding back to GCDD.
Other FY19 Budget Highlights:
Department of Behavioral Health & Developmental Disabilities (DBHDD)
$220,000 increase to the Albany Advocacy Resource Center to fund their pre-school program for children with disabilities
$6,000,000 increase for Behavioral Health Crisis Centers
$250,000 increase for the Matthew Reardon Center for Autism
$5,922,917 increase for crisis services for children under 21 with autism
Utilize $266,119 in existing funds for telehealth services and three positions for behavioral health services for children under 21 with autism
GA Council on Developmental Disabilities (GCDD)

$14,000 increase to fund an agricultural summer camp for youth with disabilities
Department of Community Health (DCH)
$894,519 increase for the electronic visit verification system for Home and Community-Based Services (HCBS)
$847,962 increase to develop capacity for behavioral health services for children under 21 with autism
Utilize $962,022 in existing funds for increased background checks for owners and employees of long-term care facilities
Utilize $50,700 in existing funds for one program coordinator position for children under 21 with autism
$16,894,882 nursing home rate increase
$1,204,573 to increase personal needs allowance for nursing home residents by $15 per month
$399,670 to increase Adult Day Health Centers reimbursement rates
$1,000,000 to increase reimbursement rates for Licensed Practical Nurses and Registered Nurses in the Georgia Pediatric Program
Department of Public Health (DPH)
$100,000 to develop capacity for children under 21 with autism
Utilize $50,700 in existing funds for one program support coordinator position for children under 21 with autism
$399,005 increase to Emory Autism Contract l $1,103,716 increase for occupational, speech and physical therapy rates in the Babies Can't Wait Program
$119,922 increase to the Brain & Spinal Injury Trust Fund to reflect 2017 collections
GA Vocational Rehabilitation Agency (GVRA) - within the Department of Human Services budget
$200,000 increase for a state hub geographically located to provide outreach and services to support independent living for Georgians with disabilities living in Southwest Georgia
$20,000 increase for Friends of Disabled Adults and Children equipment
Department of Community Affairs (DCA)
$100,000 to the Statewide Independent Living Council for home modifications
Bills That Passed:
HB 65: Creates a Joint Study Commission on Low THC Medical Oil Access to study in-state access to medical cannabis and THC oil, as well as adds PTSD and intractable pain as conditions that qualify for low THC oil usage. (Rep. Allen Peake, R-Macon)
HB 635: The Disabled Adults and Elder Person's Protection Act - This bill allows for the creation of "Adult Abuse, Neglect and Exploitation Multidisciplinary Teams to coordinate the investigation of and responses to suspected instances of abuse, neglect or exploitation of disabled adults or elder persons." (Rep. Sharon Cooper, R-Marietta)
HB 740: Before a school can expel or suspend a student in PK-3 for more than five consecutive or cumulative days during a school year, the student must first receive a multi-tiered system of supports. If the student has an IEP or plan under Section 504 of the federal Rehabilitation Act of 1973, a meeting must be convened first before suspension/expulsion. (Rep. Randy Nix, R-LaGrange)
HB 803: This bill defines the human trafficking of an adult with a disability or the elderly as a felony if the accused through "deception, coercion, exploitation or isolation, knowingly recruits, harbors, transports, provides or obtains by any means" an adult with a disability or elderly person "for the purpose of appropriating" their "resources" for their own benefit. (Rep. Wendell Willard, R-Sandy Springs)
HR 1257: House Study Committee on the Workforce Shortage and Crisis in Home and Community Based Settings (Rep. Jesse Petrea, R-Savannah)
SB 118: Raises the age limit for coverage of autism services under private insurance policies to age 20. (Sen. Renee Unterman, R-Buford)
SB 370: Instructs the GA DCH to submit an amendment to the federal Centers for Medicare and Medicaid Services that waives any claim by Medicaid Estate Recovery on the first $25,000 in an individual's assets. (Rep. John Wilkinson, R-Toccoa)
SB 406: Georgia's Long-Term Care Background Check Program - This bill requires background checks of employees with direct access to patients in long-term care settings such as nursing, personal care homes, and home healthcare. It also creates the Central Caregiver Registry to allow employers to search for caregiver background checks. It allows family members who are employing caregivers for their loved one (age 65 or over) to obtain an employment eligibility determination from DCH for the applicant care-giver. This was a GA Council on Aging priority for 2018. (Sen. Brian Strickland, R-McDonough).
SR 467: "Senate Study Committee on Service Animals for Physically or Mentally Impaired Persons" (Sen. Renee Unterman, R-Buford)
SR 506: "Senate Study Committee on the Excessive and Duplicative Regulatory Oversight of Community-Based Intellectual and Developmental Disability (IDD) Services" (Sen. Mike Dugan, R-Carrollton)
Bills That Did NOT Pass:
HB 668: This bill would allow guardianship proceedings when an individual is 17 years old. (Rep. Betty Price, R-Roswell)
HB 768: Proof to a Preponderance of the Evidence - This bill sought to address the issue of Georgians with intellectual disabilities being executed for capital crimes by introducing a pre-trial proceeding to determine intellectual disability with a clear and convincing standard, as well as a system to raise intellectual disability claims prior to the sentencing phase with a preponderance of the evidence standard. (Rep. Scott Hilton, R-Peachtree Corners)
HB 891: This bill looks at discrimination that parents who are visually impaired or blind face in regard to child custody, adoption and visitation. (Rep. Carl Gilliard, D-Garden City)
The GA Special Needs Scholarship (the SB10 waiver) was the topic of two bills this legislative session, HB 759 and HB 801. While neither passed, GCDD understands that a group of legislators will be working on this issue over the summer in a non-official study committee. We will keep you updated as we learn more!
NOTE: Governor Deal has until May 8th to sign or veto these bills. If Governor Deal chooses not to veto or not to sign, the bill will become law.
This is not a comprehensive list of all bills that passed during the GA General Assembly.
GCDD's Public Policy Team
Dawn Alford, GCDD Public Policy Director
Hanna Rosenfeld, GCDD Planning and Policy Development Specialist
2018 Advocacy Days
GCDD held its third Advocacy Days at the Capitol to empower advocates, families and the community to educate legislators about issues that affect people with disabilities across Georgia. There were six Advocacy Days covering DD Waivers, Employment, Inclusive Post-Secondary Education, UNLOCK! Coalition and Medicaid.
GCDD also kicked off its "I Love Medicaid" Campaign on February 14th (Medicaid Advocacy Day) to collect and share stories of why Medicaid is important for people with developmental disabilities. For more photos of Advocacy Days, visit https://gcdd.org/news-a-media/photos.html
GCDD thanks all the Georgia legislators who met with advocates during the legislative session. Here are just a few:
Senator John Albers (R-Roswell)
Representative Wayne Howard (D-Augusta)
Senator Nan Orrock (D-Atlanta)
Senator Horacena Tate (D-Atlanta
To read more in Making a Difference magazine, see below:

Save
Save
Tags: Advocacy, Making a Difference, public policy