Real Communities Learning Tour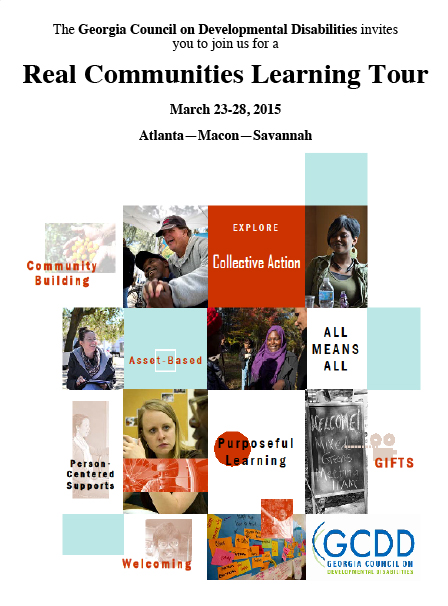 Real Communities Learning Tour
March 23-28, 2015
The Real Communities Learning Tour, sponsored by the Georgia Council on Developmental Disabilities (GCDD), is designed to provide participants with the following:
An intensive view of the community building initiatives that the Council supports

An overview of the values, practices, and principles of Real Communities, as well as lessons learned

Opportunities to interact with community builders, community members involved in projects, and program staff

Time to share, ask questions, dream together, socialize, and reflect

Ideas for developing and supporting similar initiatives at home
Learn more about the Real Communities Learning Tour, and register here to join GCDD and Real Communities' leaders for an engaging conversation on building better communities for everyone.








About Real Communities
Real Communities is a cutting-edge initiative launched in 2010 by the GCDD to partner with local groups working to build more just communities. It's a thoughtful, action learning approach that equips community members at the grassroots level to work together toward common goals to improve their own community using person-centered supports, community-centered connections, and persistent and reflective learning. Purposefully involving people with and without developmental disabilities in collaborative projects is pivotal to the framework of Real Communities. We seek to support communities who welcome and utilize the gifts of everyone, including those who have been historically marginalized, and create avenues toward reciprocity, interdependence, and social change. Specifically, partners in Real Communities act on four commitments:
Taking action that makes a community better for everyone
Engaging people with developmental disabilities as active contributors
Organizing in a way that builds a community's capacity for collective action
Sharing what we learn
The Council actively supports communities in a number of ways, including technical assistance, training, popular education, and at times, financial support. Projects are determined by individual communities, as opposed to GCDD staff, and vary according to local needs and desires. They could range from community-based transportation to cooperatives to community gardens. By handing the reins to individual communities and leading by stepping back, GCDD supports real communities as they flourish and achieve real and lasting community-based change.
Tags: GCDD, Real Communities, GCDD Learning Tour