Six Students Stand Out As GCDD "Advocates of the Year" - Partnerships for Success High Schoolers Form Relationships for Life
The saying goes that children are the future but these six students prove that children are also shaping the present by building new relationships, being leaders, and acting as ambassadors of advocacy by promoting diversity within their schools.
Annually, GCDD taps an outstanding Georgian as "Advocate of the Year," but at this year's Making a Difference Appreciation Ceremony, six students from across Georgia shared the honor for strong advocacy work within the Partnerships for Success (PFS) program at their individual schools. Sara Cole and Kristin Womack of Apalachee High School in Winder, Lyndzi Vaughn and Nick Dyson of Flowery Branch High School, and Travis Baker and Katherine Walker of Colquitt County High School in Moultrie received the award jointly on July 21 for being outstanding advocates in their schools.
Partnerships for Success (http://www.partnershipsforsuccess.com/) is a student leadership program formed in 2004, based on the cornerstone belief that the ability to make important life decisions begins in high school, if not earlier. Partners Clubs provide opportunities for students to participate in activities that enhance their educational experience. Currently PFS clubs are active in:
• Hall County School System
• Barrow County School System
• Bibb County School System (Rutland Middle & High School)
• Bryan County School System (Richmond Hill High School)
• Colquitt County High School
• Douglas County High School
• Gainesville City Schools
• Houston County School System
• Walton County School System
• Wayne County School System
• White County School System
• Whitfield County School System
Local school administrations, community partners, teachers and parents support PFS Clubs in various ways, but it's the students who run the clubs, brainstorming fun yet meaningful activities to share with students with and without disabilities.
The six student advocates of the year were recognized for new ideas, fostering friendship and understanding, and communicating PFS Club values in new ways.
At Flowery Branch High School, Lyndzi Vaughn, a sophomore, and Nick Dyson, a junior, decided they'd like to spend a little more time every week with other kids in the PFS program and brainstormed a new way to do so. Every Tuesday, they set up four tables, covered them with red tablecloths and invited everyone from the club to eat together. The "Lunch Bunch" caught on, the PFS Club quickly gained 20 new members, and teachers even started joining the fun. This year, the tradition continues and the Tuesday "Lunch Bunch" is responsible for adding to knowledge, acceptance of and understanding among a diverse group of students.
Travis Baker and Katherine Walker, both from Colquitt County High School, exhibited the core values of PfS in the halls of their school, but also out in the community. According to their club sponsor, Chad Horne, they are widely recognized not only because they are great kids, but for their uncanny ability to lift up others and make them feel valued. Travis graduated in May and started classes at the University of Georgia last month. Largely thanks to his PFS Club experiences, he plans to pursue a degree in Special Education.
Katherine, a senior, is full of positive energy, according to Horne.
"She's also one of the funniest, most caring and possibly, the most dramatic students I have ever worked with," he said. "Because of Katherine's many positive qualities, I expect her to play a vital role as Partnerships for Success grows at CCHS."
Kristin Womack from Apalachee High School is a student with disabilities who became the go-to person for promoting PFS Club events on Facebook. According to Tonya Crowe, the club sponsor, Kristin is a natural ambassador, talking up club activities at lunch, socializing with all students and advocating for herself.
Sara Cole, also from Apalachee High but a newcomer to PfS last year, jumped in with both feet. She was surprised to gain so much about understanding about diversity and was pleased learn she and others shared common interests with others in the club, no matter what the disability or if they had one at all.
And that, says Cindy Saylor, PFS Program Manager in Georgia, is precisely the goal of the Partners Clubs. By offering a diverse population of students healthy and fun activities, friendships develop naturally. Understanding and acceptance are byproducts and the next generation of learners is encouraged to notice common traits as opposed to seeing only differences. In this way, Partnerships for Success students really are ambassadors of advocacy for today as well as tomorrow.
Photos from the 2011 Making a Difference Appreciation Ceremony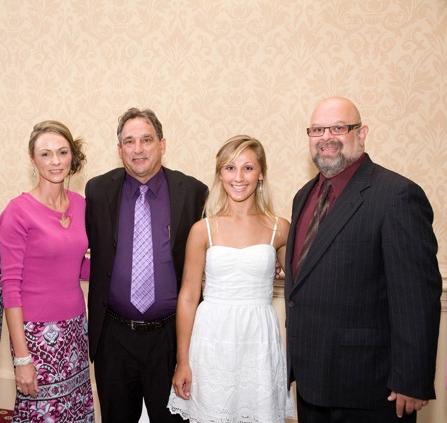 (L-R) Nick Dyson, represented by his mother Truly Dyson; GCDD Chair Tom Seegmueller; Lyndzi Vaughn; and GCDD Executive Director Eric Jacobsobn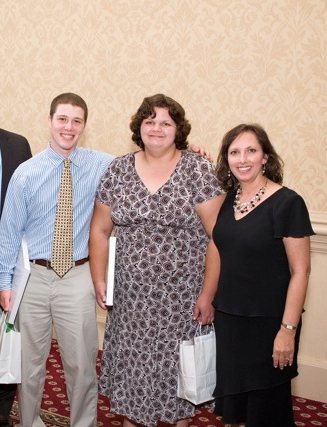 (L-R) Travis Baker; Katherine Walker; and PFS Program Manager in Georgia, Cindy Saylor
* Sara Cole and Kristin Womack were unable to attend the 2011 Making a Difference Appreciation Ceremony